Now reading: キッチン
Sample pages available in the nomination post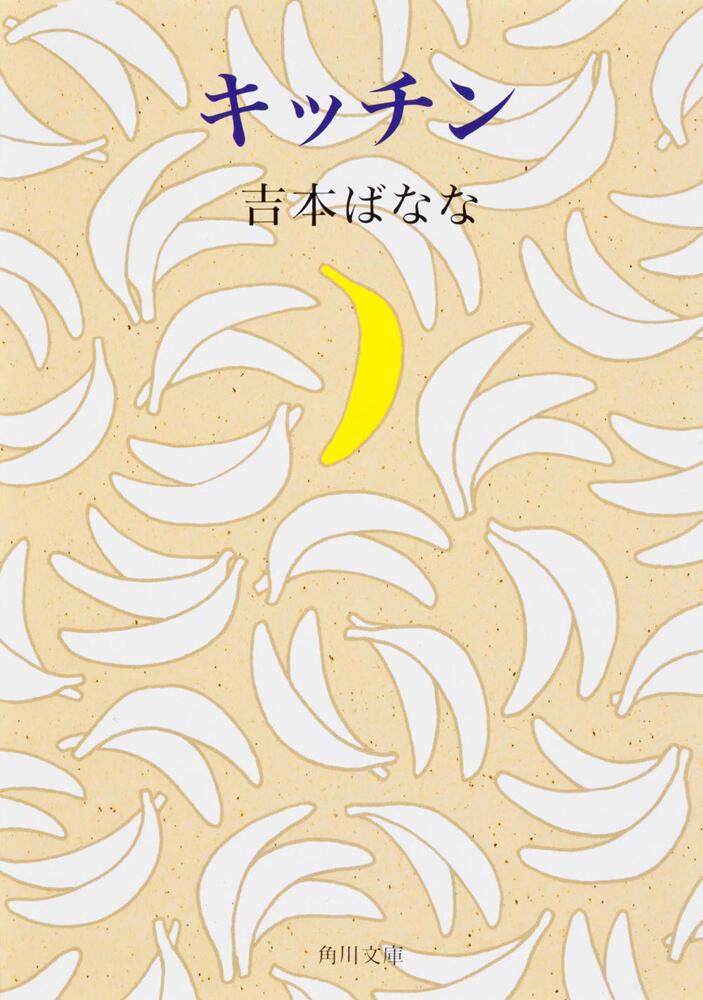 Starting date: October 5th
---
Voice Chat
The club has a Discord server, which is sometimes used for voice chats / read-along sessions. See specific book threads for current activity.
---
Previous Books
Links to Discussion Threads
Book 1 | No. 6
Book 2 | Autumn Prison
Book 3 | An Unexpected Conclusion in 5 Minutes: Red Nightmares
Book 4 | The Devil is a Part-Timer!
Book 5 | Kino's Journey
Book 6 | Convenience Store Woman
Book 7 | The Melancholy of Haruhi Suzumiya
---
Welcome to our Japanese book club! In this club we choose a Japanese book, read it together, and discuss what we've read. It could be meaningful discussion on the content, questions about vocabulary and grammar that confuse us, or just motivating each other to keep moving.
We'd love it if you joined the club! All you have to do is buy the next book lined up, read along with the schedule and join in the discussion!


---
Book Proposals
How to Propose Books
Proposal Guidelines

Courtesy of fl0rm and the beginner book club (adapted for this club).

Nominate something you are ready to read

This is a big cooperative group, but there's always a minority keeping things active. If your pick wins, there'll be some expectation that you contribute throughout.
If you can't read your own sample pages (at least mostly) you may not be able to judge the difficulty effectively, and won't be able to help others much.
Furigana does not imply something is easy (or vice versa); it's just one factor contributing to difficulty.

Books nominated must not be longer than 350 pages

Our reading pace means this is the longest we could tackle within a reasonable timeframe.
A book of short stories can be longer: we will only pick select stories.

Do not nominate anything clearly NSFW

This can be hard to judge without reading the book, but if you'd associate the work with fanservice or gore, even if just by reputation, please don't suggest it for this group.

Try to pick something reasonably well-known

This will increase the reader pool as more people will be interested / already have a copy.
People will be more able to re-sell or pass along their copy after reading.
Popular works often have more accessible language.
Some participants may have already read it, and themes are probably broadly understood, making it easier for members to help each other and for readers to draw inferences from context.

Books that fail to score at least 20% on the last three round of voting will get automatically removed.

This approach ensures that the list remains reasonably small and dynamic.
You may nominate a removed book again, but please think about it before hand. Do you think there's reasonable interest for that nomination?
Proposal Template

Taken directly from the beginner book club.

Copy this template into a new post when proposing a book/manga.

For page samples, you can either take photos of your own copy (try to make the three additional pages 'representative' if possible), grab photos from the internet, or use previews from e.g. Amazon, BookWalker, EBookJapan. Make sure the text is legible!

# Insert Title Here

## Summary
[details="Japanese"]
Add Japanese summary here.
[/details]
[details="English"]
Add English summary here.
[/details]

## Availability
Insert link to book on amazon.co.jp here.
Insert link(s) to eBook here, or mention if an eBook is not available.

## Personal Opinion
Insert why you think this book would be good to read, personally and for the book club here.

### Pros and Cons for the Book Club
#### Pros
* Insert pros here.
#### Cons
* Insert cons here.

## Pictures

[details="First Three Pages of Chapter One"]
Insert images here (can be photos from you or the internet, or from ebook previews).
[/details]

[details="Additional Pages"]
Insert a few more images here - try to make them representative.
[/details]

## Difficulty Poll
How much effort would you need to read this book?

[poll type=regular public=true]
* No effort at all
* Minimal effort
* Just right
* Challenging
* Impossible, even with everyone's help
* I don't know (please click this if you're not voting seriously)
[/poll]
Current Proposals
The nomination posts linked under each entry will give you further information, including sample pages.
Your Name

君の名は

Mitsuha, a high school girl living in a rural town deep in the mountains, has a dream that she is a boy living an unfamiliar life in Tokyo. Taki, a high school boy living in Tokyo, dreams that he is a girl living in the mountains. As they realize they are changing places, their encounter sets the cogs of fate into motion. Written by director Makoto Shinkai, this work has become a global phenomenon!

Amazon JP | CDJapan | eBookJapan

Furigana version available:
Amazon JP | CDJapan

Difficulty: 2.94 (17 votes)

---

---
Wolf Children Ame & Yuki

おおかみこどもの雨と雪

It's about a young student who falls in love with a werewolf (he's really nice though) - they have two children (called 雨 and 雪) together and the story is basically about the children growing up. Which is slightly more exciting than raising "normal" human children…

Amazon JP | CDJapan | eBookJapan

Furigana version available:
Amazon JP | CDJapan

Difficulty: 2.32 (20 votes)

---

---
Night Market

夜市

A mysterious city where ghosts sell various items, "Night Market": here you can obtain any item you want. When he was an elementary school student, Yuuji got lost in the market and, in exchange for his own little brother, he bought "Baseball Talent". Yuuji grew as the baseball club's hero, but continued to feel guilty about selling his brother. So tonight, in order to buy his brother back, he visits Night Market again. With a miraculously beautiful and moving ending, this story shakes the soul and won the prize for number one horror in Japan.

Amazon JP | CDJapan | eBookJapan

Difficulty: 2.71 (16 votes)

---

---
A lollipop or a bullet

砂糖菓子の弾丸は打ち抜けない

Nagisa Yamada is a bored teenager who finds everyday life extremely unappealing – thus she plans on joining a Military School as soon as possible.

A strange new student named Umino Mokuzu, who claims to be a mermaid, transfers into Nagisa's school and, much to our heroine's bewilderment, soon begins to follow her around incessantly.
Initially, an annoyed and discomfited Nagisa strives to avoid any encounters with Mokuzu. But she soon begins to comprehend the pain and sadness concealed beneath this strange girl's cheerful and carefree demeanour.

Difficulty: 2.90 (12 votes)

---

---
Tokyo Cat Stroll

TOKYO猫びより散歩

It's… basically just an illustrated mini guidebook of shops in Tokyo which have cats.

Difficulty: 2.89 (9 votes)

---

---
ブギーポップは笑わない

Who am I? My name is Boogiepop…

There is an urban legend that children tell about a shinigami that can release people from the pain they are suffering. This "Angel of Death" has a name–Boogiepop. And the legends are true. Boogiepop is real. When a rash of disappearances involving female students breaks out at Shinyo Academy, the police and faculty assume they just have a bunch of runaways on their hands. Yet Nagi Kirima knows better. Something mysterious and foul is afoot. Is it Boogiepop or something even more sinister…?

Difficulty: 3.00 (9 votes)
ポーション頼みで生き延びます!

One day, the supervisor in charge of watching over Earth was taking care of a distortion, when they made a mistake that caused Kaoru Nagase to lose her physical body. Not only that, but reincarnating her into a different, less culturally-advanced world is the only thing they can offer to do for her.

Not one to take this turn of events sitting down, Kaoru makes a demand: the power to create potions at any time she pleases, with whatever effect she wants it to have—and it doesn't stop there either. She asks for a magical Item Box, the ability to understand and speak every language, and the same body she had back when she was a fifteen-year-old girl.

Using her newfound powers, Kaoru has to try and make a stable life for herself in a whole new world!

Difficulty: 3.33 (6 votes)
氷菓

(Translation from fandom page)
A classroom that unexpectedly becomes a locked room. A book that is borrowed every week without fail. A boy who insists that there shouldn't be an anthology. And an anthology entitled " Hyouka " that hides the truth from thirty years into the past. Houtarou Oreki, an "energy-saving" boy who is seemingly unmoved by anything, due to a series of events, slowly brings interesting mysteries hidden from the ordinary into light with the help of his friends from the Classics Club.

Difficulty: 3.00 (6 votes)
All You Need Is Kill

There's one thing worse than dying. It's coming back to do it again and again… When the alien Gitai invade, Keiji Kiriya is just one of many raw recruits shoved into a suit of battle armor and sent out to kill. Keiji dies on the battlefield, only to find himself reborn each morning to fight and die again and again. On the 158th iteration though, he sees something different, something out of place: the female soldier known as the Bitch of War. Is the Bitch the key to Keiji's escape, or to his final death? (from goodreads.com)

Difficulty: 3.43 (7 votes)
Smoothly Memorise with Manga and Repetition: The Hyakunin Isshu

マンガ✖くり返しでスイスイ覚えられる百人一首

Simply put, it's a book to help kids (specifically, twelve-year-olds, according to the cover) memorise the Hyakunin Isshu, the Hundred Poems which are used on karuta cards. I'm not expecting us to memorise the poems, but it'd be great for finding out more about them. Each poem has a double-page spread, with the poems (including modern-equivalent readings, if they differ), a brief explanation of the meaning, a handy mnemonic for memorisation, a single four- (or sometimes three-) panel manga strip illustrating the meaning, and an explanation.

Amazon
No e-book version found so far.

Difficulty: TBD
空挺ドラゴンズ

Meet the crew of the Quin Zaza, a flying ship which hunts flying dragons. And then butchers them for meat and other products, and sells them. Like, that's literally the blurb on the back of the book's obi - "Hunt, butcher, sell, and then… eat!!" But more to the point, it's full of swashes, and buckles, and all manner of derring-do.

Difficulty: TBD
ifの悲劇

The novelist Kano who lives in Abashiri, Hokkaido, loves his cute sister Aya, but when Aya got a job at a trading company, she started living alone in Yubari. However, when it was discovered that her fiance Okutsu had an affair, Aya committed suicide by jumping off of a building. The elder brother who vowed to revenge on Okutsu invites Okutsu to Abashiri and kills him. On the way to Yubari to hide the body of Okutsu in the car and build an alibi, Kano causes a traffic accident.
From here the story splits into two ⇒
A: The murder is revealed through the traffic accident
B: The murder is not revealed through the traffic accident
… and how about Kano's fate?
When two parallel worlds are combined into one, the impact becomes clear.

Difficulty: TBD
1リットルの涙 難病と闘い続ける少女亜也の日記

Aya Kitō was diagnosed with a disease called spinocerebellar degeneration when she was 15 years old. The disease causes the person to lose control over their body, but because the person can retain all mental ability the disease acts as a prison. So in the end she cannot eat, walk or talk.

Through family, medical examinations and rehabilitations, and finally succumbing to the disease, Aya must cope with the disease and live on with life until her death at the age of 25. (from Wikipedia)

Difficulty: TBD
最先端の日本酒ペアリング ー SAKE PAIRING

Introduction
[A book of amazing sake experiences!]
Sake innovator, Mari Chiba's pairing technique is unveiled!

Everyone was surprised by a bold pairing of sake and food,
Mari Emi Chiba from "GEM by moto" attracting attention as an innovator in the sake world
A book that combines the theory and practice of the pairing and recipe examples into one volume
"The most advanced sake pairing".

A Japanese sake bar "GEM by moto" in Ebisu, Tokyo
Here is the pairing of sake and food that the store manager Marie Chiba has devised.
"That taste is the first time!"

"Blue cheese ham cutlet"
There are many things that cannot be seen in the traditional combination of Japanese sake and cuisine, such as "How much Ginjo Sake", and some people are captivated by its unexpectedness.

One book that summarizes the pairing theory and practice that has been cultivated so far.
Actually with GEM by moto along with the theory of pairing
Introducing more than 30 kinds of sake and food pairing examples.

Difficulty: TBD
---
Purchasing Books
Please see the Discussion Thread of the current book for direct purchasing links.


Physical Books

Two good options for purchasing physical books are:

The former has economy shipping options which are likely to be cheaper but slower. You can also check out the Amazon site for your home country, or might be able to find the book on Amazon US.

If you can't find an online store that will ship to you, you can use a forwarding service like Tenso or White Rabbit Express to forward the package to you for a fee. Alternatively, you may be able to find the book at a local Japanese book store such as Kinokuniya; just google your area.

Book types:

単行本 (たんこうぼん): "stand-alone book". Hardcover or paperback, denoted by ハードカバー or ソフトカバー. Slightly larger than 文庫本.
文庫本 (ぶんこぼん): small-format paperbacks, cheap but usually well-bound.


eBooks

There are several places you may be able to purchase eBooks:
---
Historic Votes
Book Selection Polls
Other Polls
---
Archive
Book Club Members




はたらく魔王さま Member List

Snowflying
fl0rm
scaso
LucasDesu
Naphthalene
NickNickovich
Momoiro
AngelTenshi

Red Nightmares Member List

LucasDesu
Naphthalene
NickNickovich
Steffy47
Ell
Snowflying
Toyger
Rain32
Angel
charlesfm
Dorotheian

Autumn Prison Member List

Angel
Caracal
chrispthompson
DuncanDean
Hgbearawesome
katiesaccount
Kumirei
LucasDesu
mitsuki777
Nath
NickNickovich
polv
: saiakuma
Scaso
Snowflying
Toyger
Mechturk
StellaTerra
Alineiwane
AnimeCanuck
Answa
Atrejub
Ddleighc
downtimes
EiriMatsu
ish93
krokorock
mechmouse
Mohkargan
Nehaahmed
Netru
Oryantge
pgoonghang
Riccyjay
chofas
Ell (lurking, will participate with next book and read the discussion of 秋の牢獄)

No. 6 Member List

Addietaylor
Answa
Arnagos
Caracal (slowly)
Carlap
Chrispthompson
Downtimes
GaijinInu641 (reading, but really slowly)
Hgbearawesome
Icefang97
Ichou
katiesaccount
KuzunohaXIV
LTMumfordIII
LucasDesu
Plumenator
Scaso
SilverRose009
Snowflying
Softlyraining
Toc
Aemaeth
AmethystPersona0
AngelTenshi
Dimono (have the book but planning to just read at my own pace and read the discussion afterwards)
Dnmj95
Dokuchan
Egd001
Eucibous
Hanalee
Jhamonnet
Jintanuki
JKO
Kumirei
LankyAusMan
MissMisc
Obskyr
Polv
riccyjay
Toyger
Trishcakes
Tru
Anchang
Annshin
Bakugou
Ersikan
Humla
Maxkao
Tapatun
AnimeCanuck (still working on grammar)
DuncanDean (lurking, has ordered 秋の牢獄 for the next round)
Kyayna (lurking, will participate with next book)
Megbc (lurking, will participate with next book)
NathaliRe (lurking, will participate with next book)
Pydron (lurking, will participate with next book)

Key
: Has book and is currently reading along.
: Has book but is not yet reading.
: Has ordered or will order / buy book.


Former Nominations

If cats disappeared from the world

世界から猫が消えたなら

A 30 year old mailman finds out that he has cancer, and doesn't have much time left. When he gets home, he meets the devil who proposes a deal: for every day the devil adds to his life, he will erase something from the world.
The book explores how the man's life and relationships change with every item "erased" from the world.

Difficulty: 2.56 (18 votes)

---

---

Rascal Does Not Dream of Bunny-Girl Senpai

青春ブタ野郎はバニーガール先輩の夢を見ない

Sakuta Azusagawa's life takes a turn for the unexpected when he meets teenage actress Mai Sakurajima, dressed as a bunny girl, wandering around a public library. Mai is intrigued to meet Sakuta as other people are unable to see her. Calling this phenomenon "Adolescence Syndrome", Sakuta decides to solve the mystery.

Amazon JP | CDJapan | eBookJapan

Difficulty: 2.50 (11 votes)

---

---

Magical Girl Raising Project

魔法少女育成計画

The hit social network game 'The Magical Girl Raising Project' selects one out of every tens of thousands of players to become a real life magical girl. The lucky chosen girls gain magic powers as well as incredibly good fortune, and spend their days blissfully. But one day, an announcement declares that the number of magical girls has risen too high and must be cut down to half. Sixteen young maidens are thrust into a merciless, deadly contest to survive… but how many will come out the other side?

Amazon JP | CDJapan
Possibly no eBook

Difficulty: 3.10 (12 votes)

---

---

キッチン

In Kitchen , a young Japanese woman named Mikage Sakurai struggles to overcome the death of her grandmother. She gradually grows close to one of her grandmother's friends, Yuichi, from a flower shop and ends up staying with him and his transgender mother, Eriko. During her stay, she develops affection for Yuichi and Eriko, almost becoming part of their family. However, she moves out after six months as she finds a new job as a culinary teacher's assistant. When she finds that Eriko has passed away, she tries to support Yuichi through the difficult time, and realises that Yuichi is probably in love with her. Reluctant to face her own feelings for him, she goes away to Izu for a work assignment. However, after going to a restaurant to eat katsudon, she realises she wants to bring it to Yuichi.

Difficulty: 2.55 (11 votes)

(Manga) Made in Abyss

メイドインアビス

In an age when the corners of the world have been scoured for their secrets, only one place remains unexplored – a massive cave system known as the Abyss, filled with monstrous creatures and lost relics. Those who delve into its depths are known as Cave Raiders. A young orphan named Riko dreams of following in her mother's footsteps as a Cave Raider, and when she meets a strange robot while exploring the Abyss, she is one perilous step closer to achieving her goal!

Amazon JP | CDJapan | eBookJapan

Difficulty: 2.77 (13 votes)

---

---

(Manga) Land of the Lustrous

宝石の国

Crystalline organisms called Gems live under constant attack from the Lunarians, who shatter their bodies to use them as decoration. Every Gem is assigned a role in the fight. Phos, a young and fragile Gem who dreams of helping their friends in the war effort, is told to compile an encyclopedia because of their delicate condition. As a result, Phos meets Cinnabar, relegated to patrolling the island at night because of the corrosive poison their body creates. Seeing how unhappy Cinnabar is, Phos decides to find a role that both of the rejected Gems can enjoy.

Difficulty: 2.31 (16 votes)

---

---

The Familiar of Zero

ゼロの使い魔

Louise Françoise Le Blanc de La Vallière is a self-absorbed mage studying at the prestigious Tristain Academy for magicians. She has one major problem: Louise is unable to cast magic properly, earning her the nickname "Louise the Zero". When the first-years perform a summoning ritual and Louise's results in a catastrophic explosion, everyone deems this yet another failure, but when the smoke clears, a boy named Saito Hiraga appears. Now Louise's familiar, Saito is treated as a slave. Wild, adventurous, and explosive, Zero no Tsukaima follows Saito as he comes to terms with his new life and as Louise proves that there is more to her than her nickname suggests.

Amazon JP | eBookJapan | Honto

Difficulty: 2.67 (14 votes)

---

---

紅霞後宮物語

紅霞後宮物語

Shougyoku is known for being the strongest warrior, even though she is a woman. For some reason, this woman, still single in her thirties, is chosen to become empress and enters the "Palace of Crimson Mist" where women's jealousy and hope swirls! Received the second ラノベ文芸賞金賞 prize.

Amazon JP | CDJapan | eBookJapan

Difficulty: 3.00 (15 votes)

---

---

The Closet of Nightmares

悪夢のクローゼット

High school baseball star and national idol Toranosuke, known as the "sparkling prince", is invited to the house of his beautiful teacher Mina. Before he knows it, he's being seduced in her bedroom. When some unexpected visitors show up just as the mood gets right, Toranosuke is forced to hide in the closet. Suddenly, they all enter the bedroom and things take a turn for the worst. His teacher is murdered right before his eyes, as he peeks out from a crack in the closet door. Sex scandal and now witness to murder? Is there any way Toranosuke can come out of this unscathed and keep his sparkling prince image?!

Amazon JP | CDJapan | eBookJapan

Difficulty: 2.25 (12 votes)

---

---

Door D

ドアD

Yuna and seven university tennis club friends are kidnapped and wake up in an unknown room. With only one locked door, and water filling the room fast, they must figure out a way to escape before they all drown. There's a lever that opens the door. But it only holds the door open while pulled: one person will have to remain. And this is just the start - through a series of death-trap rooms, with chances of survival slim, the humanity of each will be tested. Will anyone make it out alive? And what awaits them beyond the final door…?

Amazon JP | CDJapan | eBookJapan

Difficulty: 3.00 (14 votes)

---

---

I Want to Eat Your Pancreas

君の膵臓を食べたい

Nomination dropped due to the book getting its own thread.

A high school boy finds the diary of his classmate - only to discover that she's dying. Yamauchi Sakura has been silently suffering from a pancreatic disease, and now exactly one person outside her family knows. He swears to her that he won't tell anyone what he learned, and this shared secret brings them closer together in a deeply moving story that traces their developing relationship in Sakura's final months of life.

Furigana version available:
Amazon JP | CDJapan

Difficulty: 2.58 (14 votes)

---

---




Other

Title___________
Synopsis
Pitch
Store Link
ナナブンノイチ
One in Seven
Seems to be a tale about a band of fraudsters / con artists planning an operation - with some double crossing intrigue going on between the members. Don't know for sure about this book, but in general the author is known for having a comic style to his writing.
Post
Amazon
ネガティブハッピー・チェーンソーエッヂ
Negative Happy Chainsaw Edge
This is by the same author as Welcome to the NHK and seems to contain some similar themes. However, it has a Kindle edition and is aimed at a youth audience so ought not to feature some of the more questionable content some people were worried about.

Story is about a high school boy who is riding home on his bike one day and comes across a girl fighting a man wielding a chainsaw. From what I can understand this is not really explained and is more a representation of the boy's desire to find someone to 'save'. The two team up and form a bond while the girl continues her nightly fights.

Post
Amazon
アフターダーク
After Dark
Murakami's shortest and probably easiest to read work. Set over the course of a single night and the first (I believe) of his novels not to be written from a first-person 僕 perspective, this centres on two sisters - one asleep in a mysterious room and viewed through a camera, the other out and about in Tokyo where she encounters various unusual characters including a jazz musician and a love hotel manager.
Post
Amazon
Classics Club
Oreki Houtarou is a self-proclaimed "energy-saver"—that is, he refuses to actively waste energy doing things that aren't necessary. Though he had no interest whatsoever in participating in any clubs upon entering Kamiyama High School, he was commanded by his older sister, Tomoe, to join the club she was once a part of, the Classics Club, as it was in danger of being abolished due to its nonexistent member count. Together with his old friends Fukube Satoshi and Ibara Mayaka, as well as with the elegantly ladylike and curiously inquisitive Chitanda Eru, the newly reformed Classics Club ends up finding themselves involved in all sorts of mystery-solving escapades. Houtarou quickly learns that life in the Classics Club, just as Tomoe had promised, would be an interesting one indeed. And so begins the "Classics Club Series".
Post
-
ほしのこえ
In this timeless, interstellar love story, the power of love must conquer the distance of outer space. Rated for teens.
Post
Amazon
君の名は
Mitsuha, a high school girl living in a small town in the mountains, has a dream that she's a boy living in Tokyo. Taki, a high school boy in Tokyo, dreams he's a girl living in a quaint little mountain town. Sharing bodies, relationships, and lives, the two become inextricably interwoven–but are any connections truly inseverable in the grand tapestry of fate?

Written by director MAKOTO SHINKAI during the production of the film by the same title, your name. is in turns funny, heartwarming, and heart-wrenching as it follows the struggles of two young people determined to hold on to one another.

Post
Amazon
怒り
A grisly unsolved murder links three seemingly unrelated people in three different Japanese cities.
Post
Amazon
クリムゾンの迷宮
From a rising new star of horror comes a killer read that will make you lose track of time and reality. The Crimson Labyrinth is a wicked satire on extremist reality TV in the tradition of The Running Man-if that indeed is what it is. Welcome to THE MARS LABYRINTH where things aren't what they seem. Welcome to the world of Kishi, where the plot is as gnarly as the humor is twisted. When an unemployed former math major wakes up one day, he wonders if he's somehow ended up on the red planet. The good-looking young woman with aid-she says her name is Ai and that she draws erotic comics for a living-seems to have no clue either as to their whereabouts. Their only leads are cryptic instructions beamed to a portable device. Has the game begun? There is no reset button, no saving and no continue-make the wrong move and it's really GAME OVER. In the cruel world of THE MARS LABYRINTH, mercy and compassion are only for the weak or the very, very strong. The stakes are nothing less than your life-and apparently a lot of money. If you're a fan of Lost or Battle Royale, don't miss this one
Post
Amazon
やはり俺の青春ラブコメはまちがっている
Hachiman Hikigaya is a cynic. "Youth" is a crock, he believes–a sucker's game, an illusion woven from failure and hypocrisy. But when he turns in an essay for a school assignment espousing this view, he's sentenced to work in the Service Club, an organization dedicated to helping students with problems in their lives! How will Hachiman the Cynic cope with a job that requires–gasp!–optimism?
Post
Amazon



Discussion Instructions

Discussions about the story start at the end of each reading period, but other discussions (for example on the language or on the book club itself) can of course be performed at any time. Just make sure to use [spoiler] tags for sentences that contain spoilers!


---